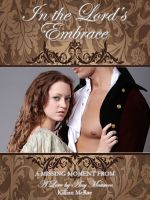 Smashwords > Books > Fiction > Historical > Romance > Short Story
Description:
A missing moment from "A Love by Any Measure." Lord August Grayson and Maeve O'Connor have escaped the dictates of British and Irish society that kept their love regulated for far too long. On their journey through postbellum America, heading ever further west and to a life unknown, the final triumph of the reunion -a return to each other's embraces- eludes them. That is, until August finally understands what will set Maeve's mind, and body, at ease.
Product Details:
Whilst I got this as a free Kindle download from Amazon back in March this year, I've just gone to get the link and it seems unavailable at the moment.
I have therefore included the link to the Smashwords store for the product. Although, with the admission that I have no idea at what price it is listed. You can download it by clicking HERE.
It's a short story of approximately 4,923 words in length.
Summary/thoughts:
It seemed strange to write this as a short story, and can only assume that it was perhaps as an afterthought, or to satisfy the curiosity of fans? Does anybody know?
Nothing bad to say about it really, it was over in the blink of any eye.
Rating:
The same as for "Love by Any Measure" (#360 - my last review) at 4.5 or 4 star on Amazon and Good Reads.
Errors/Bug Bears:
There were a couple, but I didn't make detailed notes on them as I read it on the train.
Hugs
Kay