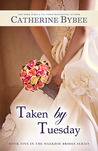 Book #5 of the Weekday Bride Series
Still happy to report that this series continues to be enjoyable. However, I have come to realise that she uses stock phrases spread across the series, such as 'poster child for ...' - although this is probably not that noticeable unless you read them in a straight run.
Again, I listened rather than read this as I got a free audio file with the Kindle Unlimited download.
Get you copy HERE.
Hugs
Kay