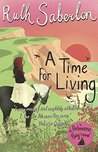 Book 2 in the Polwenna Bay series
You get easy reading, entertaining romance with Ruth Saberton. I am really loving this series and highly recommend it. There are no great surprises, just like slipping on a comfortable pair of slippers after a hard day walking on cold concrete, her books make you feel warm from the feet right up to the heart and beyond.
Part of my Kindle Unlimited package, but I would happily pay to read her work.
View all my reviews